Canadian Lobster with Candied Bacon and Potato Salad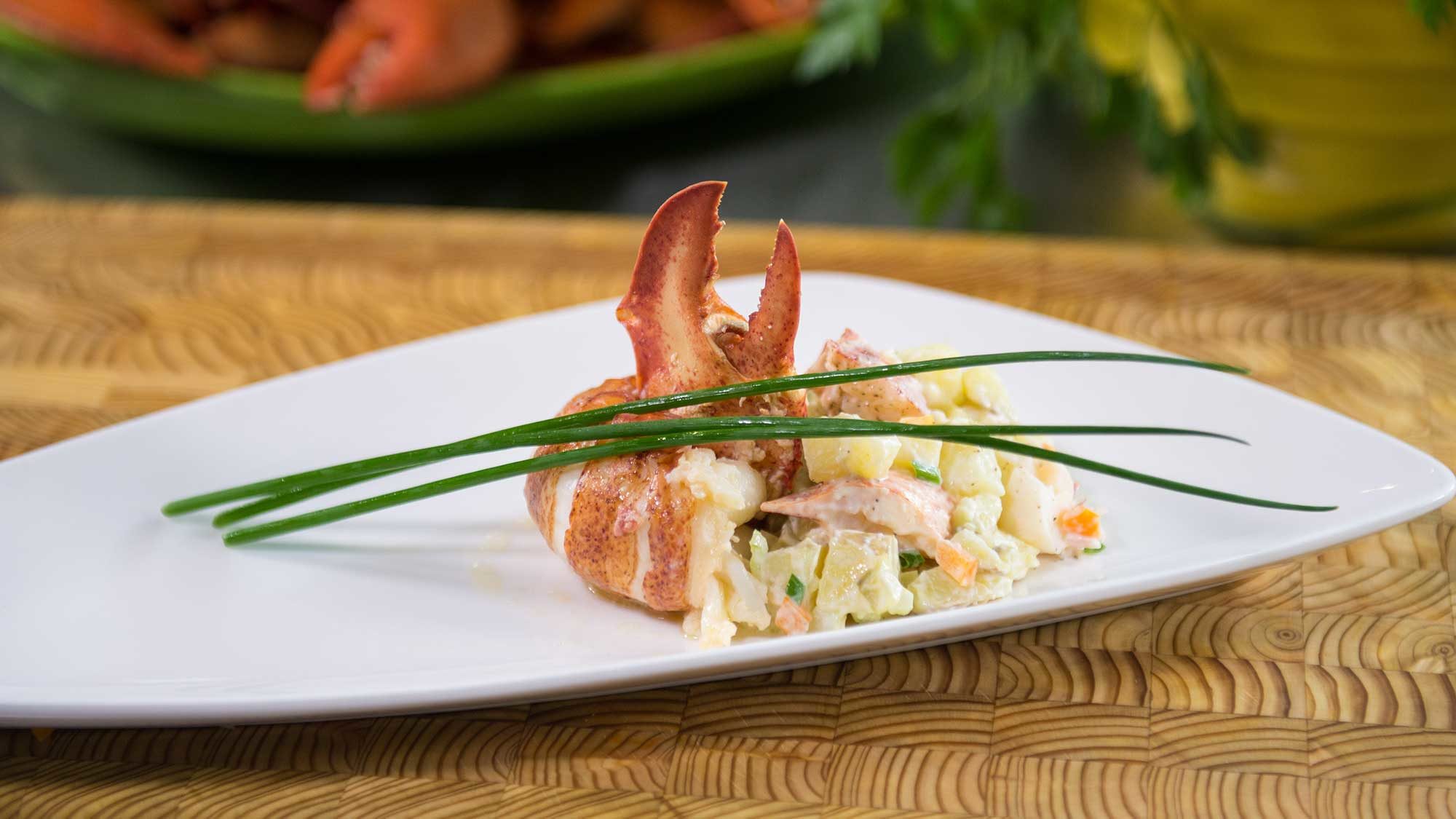 Ingredients
Lobster
Fresh or thawed Canadian Lobster Claw or Tail
450 g (1 lb)
Melted Butter
125mL (1/2 cup)
Candied Bacon
Candied Smoked Bacon
225 g (1⁄2 lb)
Maple Syrup
45 ml (3 tbsp)
Potato Salad
Potatoes, boiled and smashed
4 whole
Canadian Lobster Meat, chopped
450 g (1lb)
Finely Chopped Dill Pickles
3 whole
Dill Pickle Juice
30 ml (2 tbsp)
Finely Diced Celery Stalk
1 whole
Finely Diced Shallot
1 whole
Finely Diced Red Peppers
125 ml (1/2 cup)
Mayonnaise
125 ml (1/2 cup)
Chopped Flat Leaf Parsley
30 ml (2 tbsp)
Smoked Paprika
1 ml (1/4 tsp)
Nutritional Values
| | |
| --- | --- |
| Calories | 576 |
| Fat | 8g |
| Protein | 50g |
| Carbs | 70g |
| Sugar | 33g |
| Fiber | 7g |
| Sodium | 1342mg |
Instructions
Sauté bacon in a pan until brown. Drain the fat and fry for another few seconds. Add the maple syrup, bring to a boil, then remove from heat.
In a large bowl toss all ingredients and let cool for about 1 hour.
To assemble, place lobster potato salad on the base then sprinkle with a few pieces of maple bacon and finish with a piece of cold lobster dipped in hot butter, garnish with micro greens.
Recipe created by Chef Alain Bossé
Substitutions: Canadian Snow Crab