Scallops in Puff Pastry "Jardinière"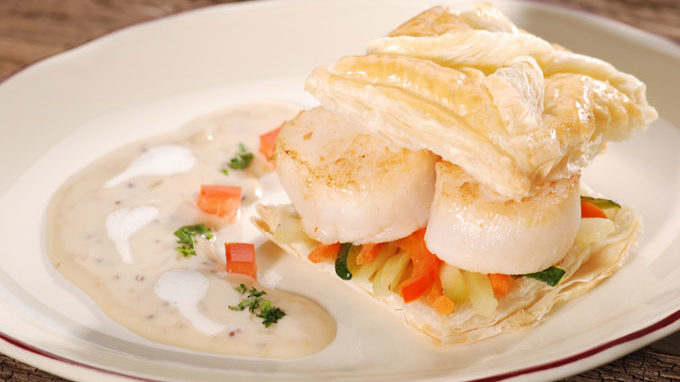 Ingredients
Box puff pastry, frozen
1/2
Carrot cut in strips
50 mL
Celery cut in strips
30 mL
Zucchini, cut in strips
1/2
Red bell pepper cut in strips
50 mL
Fish stock or bouillon
175 mL
Old style grainy mustard
5 mL
Instructions
Puff Pastry
Preheat oven to 400°F (200°C)
Thaw puff pastry. Roll out. Cut into six rectangles. Cut a thin strip from edges.
Criss-cross strips for a motif on top. Whisk egg yolk with a little water and brush over pastry.
Place on baking sheet covered with parchment paper. Cook 20 to 25 min or until golden.
Vegetables
In a saucepan, melt butter and sweat vegetables covered over low heat until tender. Reserve; keeping warm.
Scallops
Sauté in butter and olive oil, until slightly opaque no longer all translucent, 3-4 minutes.
Sauce
Melt butter over low heat. Add shallots, garlic and cook without browning until tender. Add vermouth; reduce till dry. Sprinkle flour and cook for a few min without colouring. Pour in stock and whisk, cooking until smooth. Add cream, mustard, lemon juice mix well.
Assembly
Cut pastry crosswise in half; cover bottom piece with sautéed vegetables, topping with sauce and seared scallops. Cover with the upper part of pastry.
Recipe courtesy of Chef Richard Chiasson