Snow Crab Cakes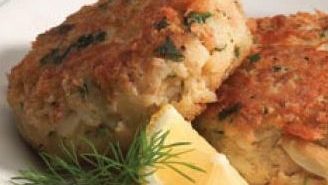 Ingredients
Atlantic Snow Crab Meat
500 g
Instructions
Defrost snow crab meat and lightly squeeze out excess moisture. See note.
Mix together crab meat, 1 egg, mayonnaise, green onion, Worcestershire sauce, lemon juice, 17.5 cl bread crumbs and seasonings.
Form crab mixture into 5 cm patties about 1 cm thick and lightly coat with flour.
Lightly beat the remaining eggs dipping the crab patties into the egg wash and coating with remaining breadcrumbs.
Place patties on waxed paper. Chill in refrigerator for 1-2 hours.
Preheat oven to 175 C.
Brown crab patties in oil, over medium heat on both sides, until golden brown. Place on baking sheet and bake for 8-10 min.
Serve with Sherry Cayenne mayonnaise.
Note: To retain all of the natural flavour of Atlantic Canada seafood products, always defrost them in the refrigerator and never rinse them under cold water.
Recipe courtesy of Chef Stefan Czapalay.