Sticky Rice & Nori Stuffed Lobster Tail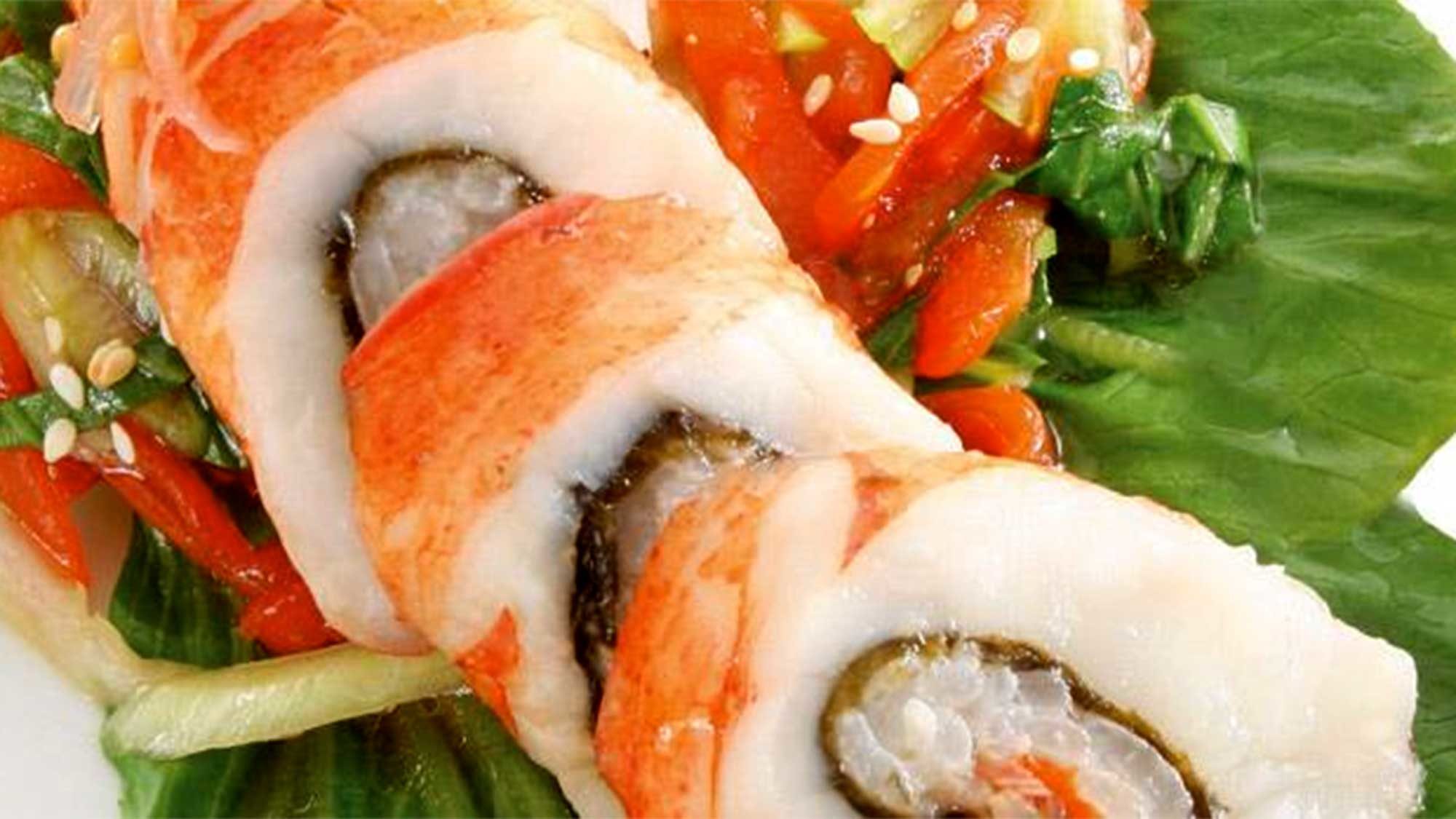 Ingredients
Stuffed Tail
Raw Lobster Tail Meat, butterflied
4 (3 oz, 85 g)
Sushi Rice (rinsed under water until water runs clear)
½ cup (125 ml)
Rice Vinegar
1 tbsp (15 ml)
Granulated Sugar
1 tbsp (15 ml)
Pickled Shallots (recipe to follow)
1 tbsp (15 ml)
Thinly Sliced Roasted Red Pepper
1 tbsp (15 ml)
Finely Chopped Tarragon
1 tbsp (15 ml)
Cracked Black Pepper
to taste
Pickled Shallots
Baby Bok Choy, leaves pulled off and blanched
6 whole
Red Wine Vinegar
½ cup (125 ml)
Granulated Sugar
¼ cup (60 ml)
Whole Grain Mustard Seeds
1 tsp (5 ml)
Salad
Baby Bok Choy, leaves pulled off and blanched
6 whole
Roasted Red Pepper, sliced thinly
¼ whole
Rice Vinegar
1 tbsp (15 ml)
Seasoned Soy Sauce
1 tbsp (15 ml)
Pickled Shallots
1 tbsp (15 ml)
Minced Shallots
1 tbsp (15 ml)
Whole Grain Mustard Seeds
1 tbsp (15 ml)
Instructions
Roll
Combine rice, water, vinegar and sugar in a saucepot.
Cover top with tight lid or plastic wrap and cook at a low temperature until grains
are tender but not over-cooked- approximately 20 minutes.
Pour out onto a baking sheet to cool, sprinkle tarragon over warm rice.
Place a thin layer of rice on nori sheet, then pickled shallots, pepper, and tarragon in a thin line.
Gently roll contents into a tight roll, ensuring the contents remain in the centre of the rice roll.
Season lobster tail with salt and pepper and roll tail around prepared rice roll tightly.
Wrap tail tightly in plastic wrap and poach at 160° F (70° C) until desired texture is reached, approximately 7 to 10 minutes.
Allow roll to cool completely before slicing and serving.
Pickled Shallots
Combine all ingredients into a saucepan and simmer for 5 to 8 minutes.
Cool and reserve in refrigerator.
Base Salad
Reserve 3 blanched bokchoy leaves per plate.
Slice blanched bokchoy leaves thinly on the bias and combine with remaining ingredients and reserve in the refrigerator until ready to serve.
Serving
Place 3 bokchoy leaves down on plate then the prepared salad.
Place 1 whole sliced tail on the plate per person.
Serve immediately.
Recipe courtesy of Gourmet Chef Packers