Blue Mussel au Gratin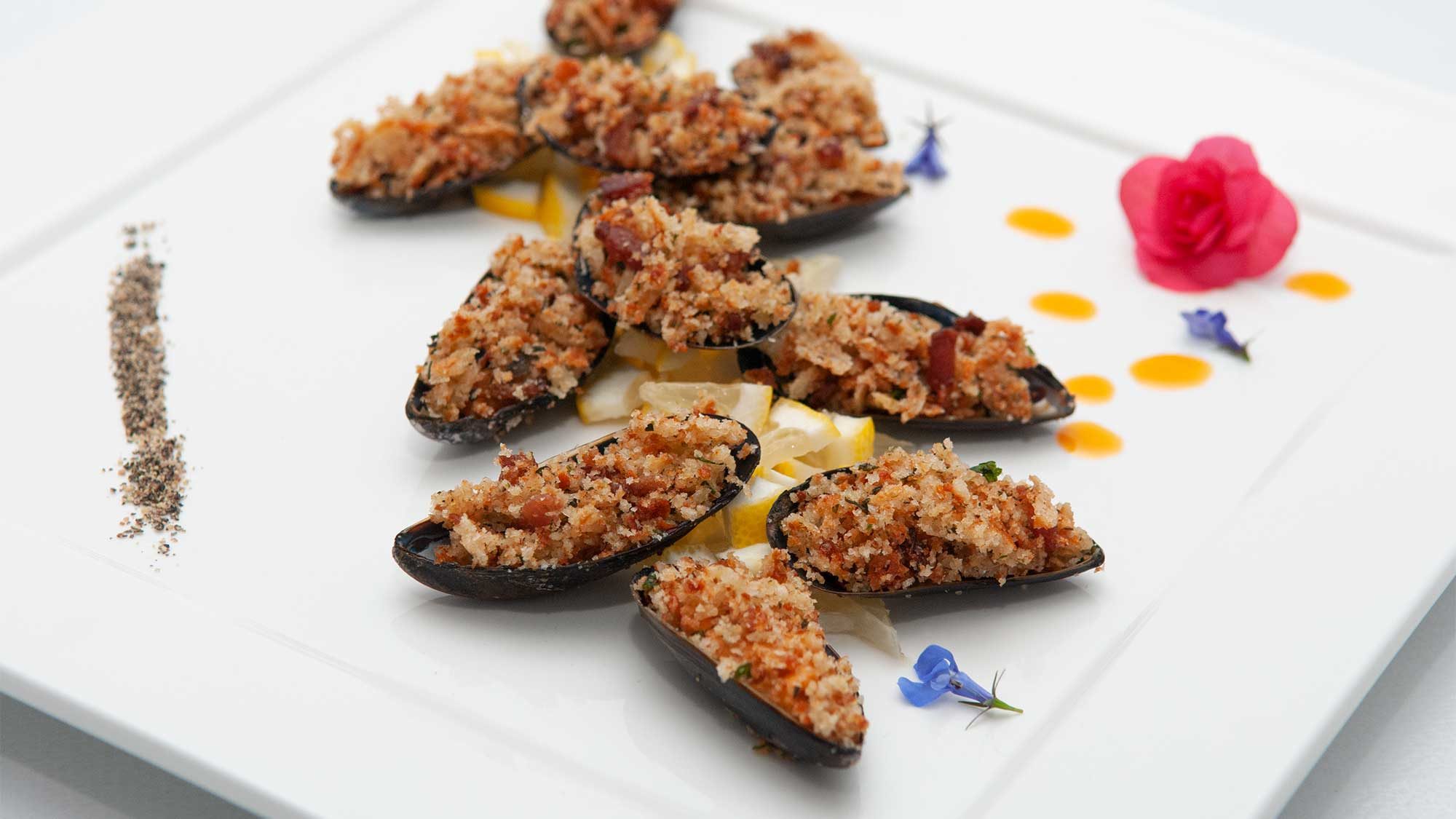 Servings: 48-60 mussels on the half shell
Ingredients
Mussels, raw
2 lbs. (900g)
Parmesan cheese, shredded
1/4 cup (60mL)
Topping:
Garlic cloves, minced
4 large cloves
Parsley, minced
2 tbsp. (30mL)
Fresh thyme, minced
2 tbsp. (30mL)
Fresh chives, minced
2 tbsp. (30mL)
Parmesan cheese, finely grated
1/3 cup (80mL)
Unsalted butter, melted
1 tbsp. (15mL)
Nutritional Values
| | |
| --- | --- |
| Calories | 643 |
| Fat | 45g |
| Protein | 25g |
| Carbs | 32g |
| Sugar | 2g |
| Fiber | 2g |
| Sodium | 632mg |
Instructions
Cover and steam mussels in a small amount of water (1 cm in pot) until open (about 5 – 8 minutes). Drain the mussels, saving the liquid. Strain liquid through cheesecloth. Set aside. Remove mussels from shells, saving half the shells.
Topping: Fry the bacon until crisp. Drain on paper towel. Crumble finely. Mix together breadcrumbs with garlic, parsley, thyme, chives, grated parmesan cheese, butter, and crumbled bacon. Add enough reserved mussel liquid to moisten.
Place mussels back in the half shells and top with breadcrumb mixture. Arrange the shells on a cookie sheet, sprinkle with shredded parmesan cheese and broil 3 – 4 minutes or until tops are browned.
Note: This recipe makes a lot of topping. Either cut recipe in half or freeze the extra. It is delicious and makes a great topping on cod au gratin.
Recipe provided by the Province of Newfoundland and Labrador