Smoked Salmon Deviled Eggs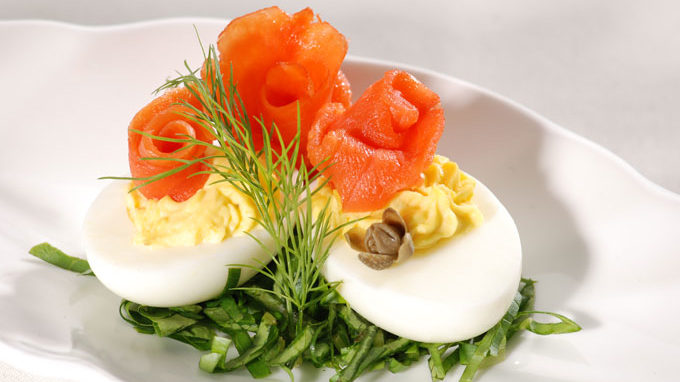 Ingredients
Pinch salt and pepper
To taste
Leaves shredded iceberg lettuce
6
Instructions
For best results in preparing hard cooked eggs, place the eggs in cold water (at least 2.5 cm (1 inch) over them) and bring to a boil.
Remove covered saucepan from heat, let stand tightly covered for 12 minutes for small eggs, 14 minutes for medium and 15 minutes for large. As soon as the eggs are cooked, drain and place pan under cold running water until eggs are cold. This helps in shelling eggs.
Shell eggs and slice them in half lengthwise.
Gently remove yolks and place them in a small bowl. With a fork, finely mash yolks.
Add mayonnaise, salt, pepper, Worcestershire sauce and lemon juice.
Fill a piping bag that has a star tip with mixture. Pipe filling into the egg halves.
Decorate with the smoked salmon slices rolled up as a rose. Garnish with capers, onion and fresh dill.
Serve the garnished deviled eggs on a bed of lettuce; drizzle with olive oil and accompany with bread slices.
Recipe courtesy of Chef Richard Chiasson.